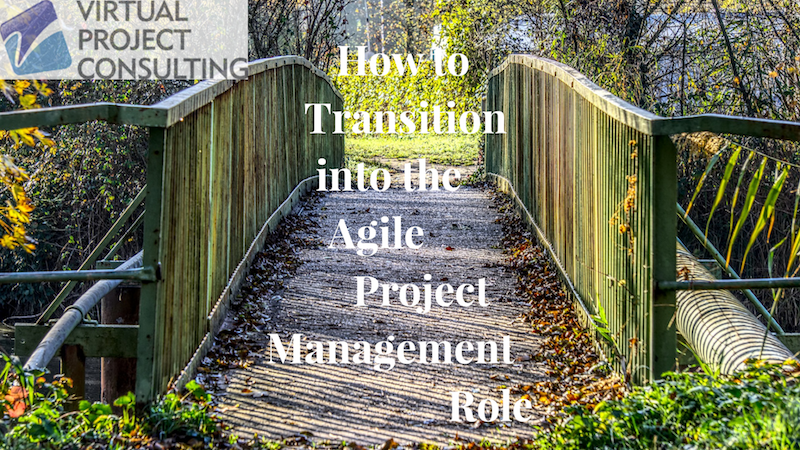 In the previous article: "Role of the Agile Project Manager" we covered: 
Project management trends that make the shift to Agile approaches more inevitable
The Agile Project Manager in the enterprise context
The role of the Agile Project Manager and what they need to do in the Agile context
This article will focus on what is required to make a successful transition to Agile project management.
An Axelos survey among project managers in 2017, found:
The project manager of the future will be valued above all for creativity, flexibility, agility and emotional intelligence.

Axelos
Reward systems
When adopting an agile approach, organizations will need to re-evaluate their reward systems to encourage agile practices, where collective goals supersede individual accomplishments. Most performance evaluation criteria is still focussed on the individual as well as on the more traditional criteria for project delivery, namely time, cost, scope, stakeholder feedback and benefit realisation. In agile it should be more about the performance of the team, value and benefit delivery as well as customer satisfaction.
Challenges with transitioning to agile project management
Project managers are accustomed to being at the center of coordination for a project. During execution and as part of the controlling processes of a project life cycle, you would be monitoring and tracking progress through status meetings, minutes and status reporting to represent the project's status to the rest of the organization.
Now, there is a shift from being the center to serving the team and management. In typical high-change projects, there's more complexity than one person can manage. Instead, cross-functional teams coordinate their own work and collaborate with business representatives like the product owner and subject matter experts (SME) of the organisation.
Project managers are now servant leaders which changes the emphasis:
to coaching people who want help,
to foster greater collaboration on teams,
to align stakeholder needs.
Adaptive approaches use short cycles to undertake work, review the results, and adapt as necessary. This means that Agile is fast paced, disciplined and demanding, encouraging improved team performance due to the inspect and adapt approach.  These cycles provide rapid feedback on the approaches and suitability of deliverables, and generally manifest as iterative scheduling and on-demand, pull-based scheduling.
This will require project managers to unlearn some behaviours, to develop a different mindset and developing some new technical skills such as running a retrospective or 'orchestrating' work where in the past it was 'managed'.
What do Agile Project Managers need to be successful?
Taking guidance from the Agile Practice Guide (2017) Project managers need to work on growing skillsets beyond their area of expertise. Some valuable attributes include:
Knowing how to provide a tailored experience for every client
ability to work with flexible workflows – coordinate between different systems and methodologies,
coaching their team(s) in a singular direction,
delegating the control of detailed product planning and delivery to the team.
Rather focus on building a collaborative decision-making environment and ensuring the team has the ability to respond to changes.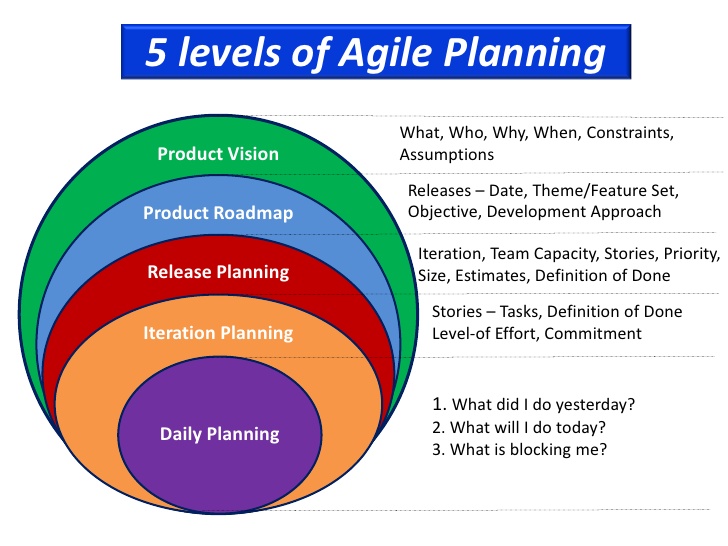 Remember that an adaptive environment requires adaptive planning. Planning for agile projects look different to what project managers are proficient with on traditional projects. The different levels of agile planning are clearly explained in the image above. 
In their book: Adaptive Project Planning, the authors, Christopher and Louise Worsley, found that one of the most distinctive characteristic of high performing project managers is their ability to use their experience and know-how to adapt the planning approach to meet the specific challenges of the project they were managing.
Develop characteristics of Servant Leadership. This is not the answer to it all, but when leaders develop their servant leadership or facilitative skills, they are more likely to become agile. Read: "Servant Leadership in the Agile context" for more information.
Servant leaders can help their teams collaborate to deliver value faster. They facilitate the team's success by:
promoting self-awareness,
by serving those on the team,
by helping people grow,
active listening,
coaching versus controlling,
promoting safety, respect, and trust,
promoting the energy and intelligence of others.
Part of the transitioning process is to keep learning, because the demand for competent resources and certified practitioners will keep growing globally. If you want to be a complete Agile Project Manager, your learning should include:
Adopting an agile approach to project management
An overview of agile methodologies
Agile planning: project initiating and requirements gathering
Agile planning: doing estimates and completing the release plan
Planning and monitoring iterations on an agile project (example: conceptual sprint plan on scrum)
Leading an agile team
Managing stakeholder engagement on an agile project
Ensuring delivery of value and quality in agile projects
There are many training opportunities available. What you choose, will depend on your circumstances, your project management experience and your new role in the agile context.
In the next article, we will explore some of the Agile Certifications available, as well as the considerations before you make a selection.

Please subscribe to Virtual Project Consulting not to miss any future updates, especially on Agile project management!
Click to go to the full article:
https://www.virtualprojectconsulting.com/how-to-transition-into-the-agile-project-management-role/